Collection Agreement & Rates
You can rest assured that we will provide the best service possible in the handling of your accounts. Accounts submitted to Fidelity for collection are subject to the following terms and conditions.
Commission Rates
All Retail and Commercial accounts are collected on a contingency fee basis. We are more than happy to work with you on a rate schedule that best reflects your needs. Contact us today for your free personalized Consultation and Debt Collection Analysis. Our representatives can be reached via email with your name, company name and phone number so that we may contact you.
Collection Agreement Terms and Conditions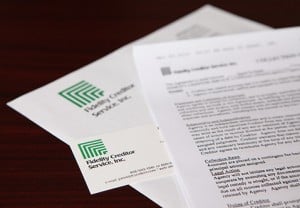 By submitting an account for collection, you agree to these terms and conditions and authorize Fidelity Creditor Service, Inc. to collect this claim. Client authorizes Fidelity to endorse and deposit into its trust accounts, all cash, checks and any other negotiable instruments received from or on behalf of debtors and made payable to client or to Fidelity. Client further agrees to pay commission on all amounts collected, paid directly to client, settled in full for any amount, withdrawn or merchandise received in lieu of payment, after a demand for payment has been made by Fidelity.
All collections paid to Fidelity or to client after the date of referral shall be properly reported, accounted for, offset and paid monthly, less the collection fee. Client warrants that claims referred are legally due and owing and will indemnify and hold harmless from any claim or action, Fidelity and its agents or assigns, based upon the referral of a fraudulent, false or misleading claim. Client agrees that any claims previously referred to any other collection entity or attorney shall be charged a collection fee of 50%.
Contact us today by phone or click here to send us e-mail.