Client Services
Our Clients Are Our Top Priority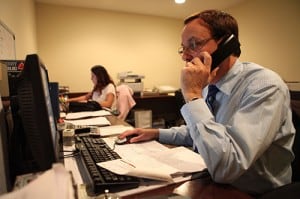 Client Service isn't just the name of a department, it's part of Fidelity's core philosophy.
At Fidelity, clients are always our top priority. Our Client Service Team is always available to you by phone or email to assist you with your accounts in any way possible. We will also be happy to come to your business at no charge to show you how to utilize our collection services. We keep in touch with you regularly to let you know exactly how your accounts are doing — you will never be in mystery about your accounts!
After your accounts are delivered to us and entered into our system, you will receive an "Acknowledgment Report" from our Client Services Team.
This will be an alphabetical listing of the recently assigned placements, showing amount assigned as well as any of your reference numbers. You can be set up to receive monthly, quarterly, semi-annual or other detailed activity reports. These reports list your accounts alphabetically or numerically. We can even provide you with an actual printout of all the collector activity on any specific account. You will be able to immediately determine exactly what has been done on each of your files. We are always available to provide you with an update by phone or email!
If you need assistance in referring your accounts, self-addressed envelopes, referral forms or just someone to talk to about your bad debt accounts, give us call.
That's what Client Service is all about
Our Client Service Department is always there to be of service to you at any time during our regular business hours of 8:00 AM to 5:00 PM PST. The entire purpose of this Department is to assist you in whatever way possible.